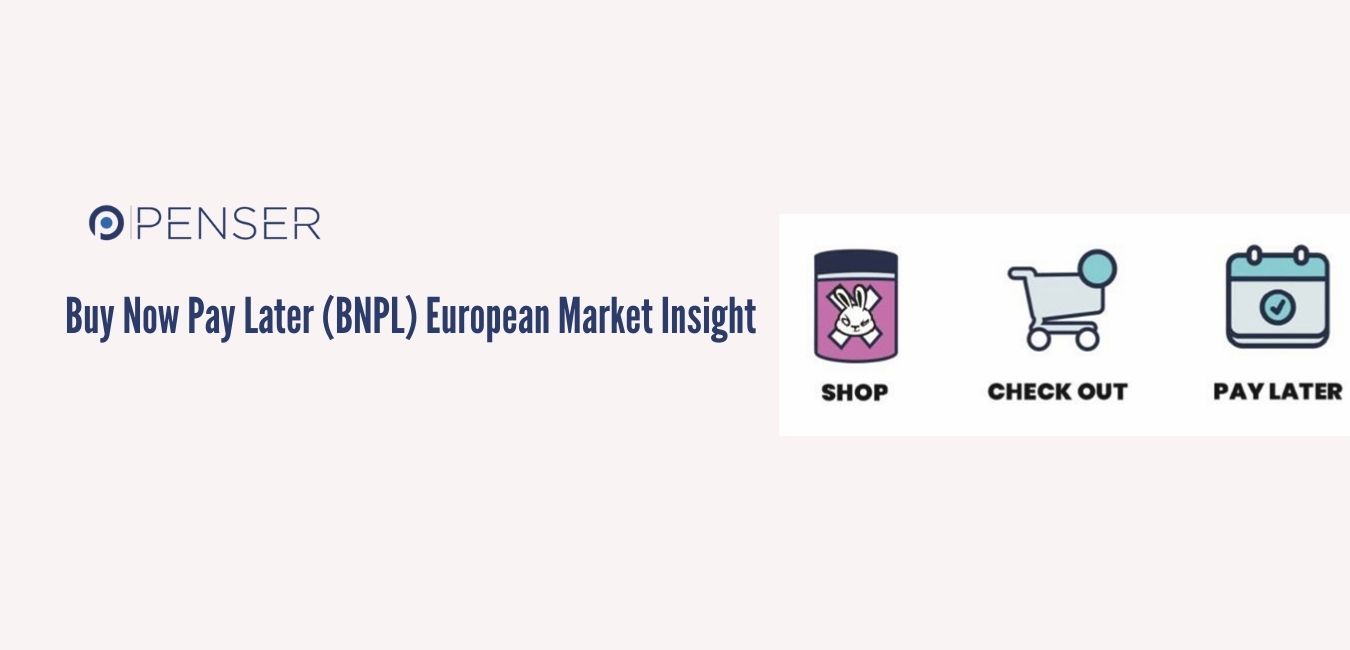 The European BNPL market is expected to increase significantly. According to Deloitte research reports, by 2025 around 11% of the e-Commerce purchases in the region will be handled through BNPL services.
Buy Now Pay Later (BNPL) is currently the preferred form of payment; quickly replacing the credit card borrowing system. BNPL payment option allows customers to opt for installment payments instead of making a lump sum one-time payment for their purchases. This enables consumers to make multiple purchases or an expensive purchase in one go. Additionally, with many service providers trying to establish themselves in the market, consumers have several attractive offers to choose from, starting from zero to low-interest rates to self-selected payment plans, and in some cases zero late-payment fees.
(Learn more about Buy Now Pay Later (BNPL))
BNPL transactions value grew by 292% between 2018 and 2020. In 2020, Klarna's total sales value was $53bn, rising by 46% year-on-year. While Afterpay's sales doubled in 2020 reaching $11.1bn.
Especially with the ongoing pandemic, not only has it impacted people's financial condition but also led to a worldwide decrease in the volume of cash transactions. In Europe, cash purchases have decreased by 35% compared to before the pandemic.
So, how big is the BNPL market in Europe, and who are the major BNPL players in Europe, and the countries where they currently dominate?
BNPL & European Market Insight
Klarna occupies a large share of the BNPL market in Europe. Klarna's customer base grew faster than any of its European rivals in 2020 with approximately 8mn mobile downloads in Europe.
In Europe, BNPL transactions on mobile are far higher than on websites. This is expected to grow further in the coming years according to the Kaleido Intelligence report.
Investment in European BNPL players grew 118% YoY in 2020 to €1.08 bn.  With over €930mn already raised in Q1, 2021.
BNPL is replacing the highly preferred invoice payments system which has been dominating the European retail market, according to the ResearchAndMarkets.com report.
According to the report, German consumers are choosing BNPL service because of the "transparent conditions" and "no interest rate" offers.
Key BNPL Players in Europe
Klarna
Scalapay
Twisto
Alma
Afterpay
Divido
EU Regulator PSD2's Regulation for BNPL
BNPL payment scheme is taking the world by storm, including Europe. Thus, making it mandatory for the European regulatory authorities to intervene to avoid any mishap, and make BNPL safer for consumers.
In Europe, the PSD2 regulates electronic payment services. The PSD2 requires Strong Customer Authentication (SCA) for all electronic transactions in the European Economic Area. Due to PSD2's authentication mandates FinTech companies need to provide direct API access to authorized customer data. These APIs will enable merchants to allow consumers to view their bank account balance(s) and select their most desirable payment source.
PSD2 mandates also prevent screen-scraping, i.e. indirectly obtaining information, such as consumer financial transactions data through mobile devices and computers without the knowledge or permission of the consumer).  Customers can transfer funds through ACH for near-instant access between business and consumer.
Having said that, digital payments might reach a record high of $1.1 trillion by 2023. In fact, the booming BNPL space has led many service providers to innovate their offerings.
If you are contemplating entering the BNPL market or have decided and need assistance with planning the business execution, product launch, or expanding your existing BNPL business, Penser could be of help.
Penser is a fintech and payments specialist consulting firm, based in the UK. With experience working for clients in the digital payments, digital banking, and mobile payments sectors.
Our services include:
Contact us at hello@penser.co.uk to learn how we can help transform your business, or venture into new business sectors.