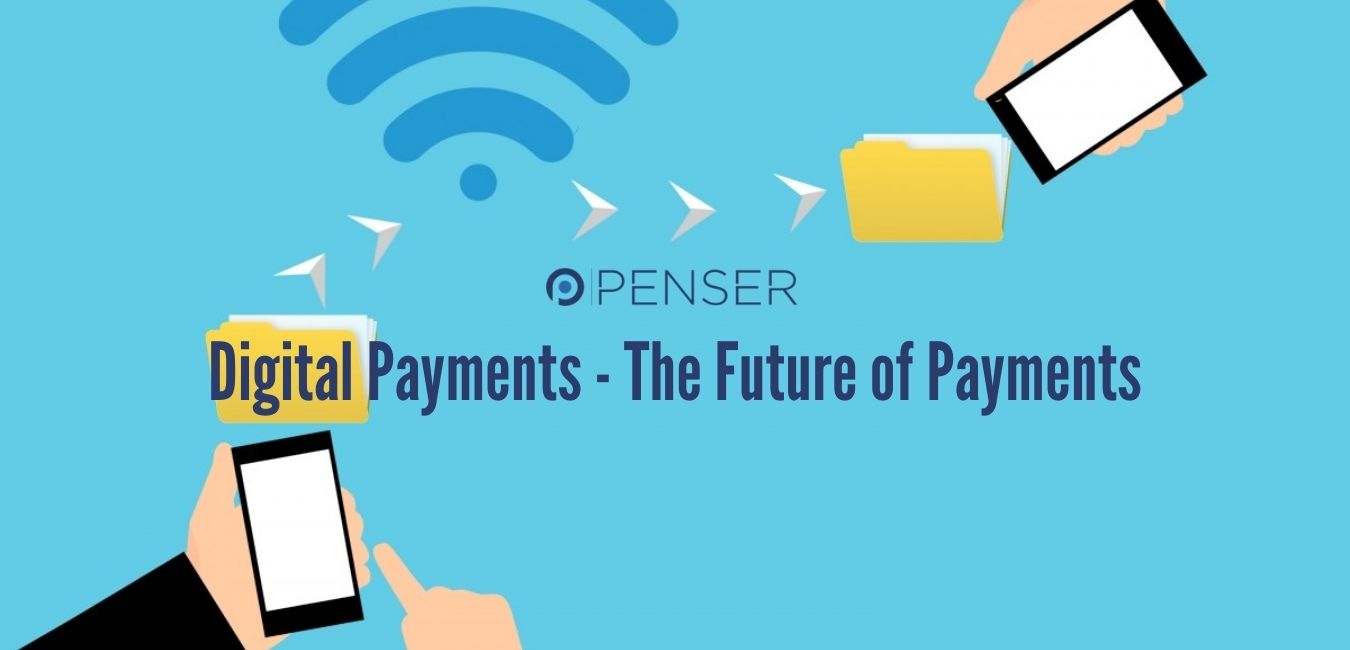 Digital payments increased significantly in 2020. According to Visa's Back to Business study, 78% of global consumers modified their payment methods during lockdowns.
The sudden lockdowns in several countries led to consumers relying on online services for their daily needs. Adoption of these new means of payment allowed people and businesses around the world to access the digital economy. This resulted in the growth of global e-commerce despite recessionary headwinds, resulting in US$ 4.6 trillion in transactions.
However, this is just the beginning of what will be nothing less than the reinvention of cashless or digital payments ecosystem.
Forms of Cashless or Digital Payments
The ease of usage and convenience make digital payments a popular method of transferring money and making payments. This makes it the chosen form of payment, especially with millennials and Gen-Z. Individuals, no longer need to visit banks, queue up, or carry around cash and walk with the fear of robbery. They do not need to incur additional expenses to transfer money or make payments. Some of the currently trending forms of digital payments are:
QR Code Payment
QR code or Quick Response code is a two-dimensional code. The popular pattern of black squares arranged in a square grid with a white background is now a common sight at the point of sale in almost every store. QR codes are much more efficient at storing data than bar codes. Shoppers can simply use their smartphones to read a QR code. These QR codes store the account information of the seller and enable payments from their bank account using their mobile device.
QR codes can be static or dynamic. Static QR codes are un-editable and cannot be tracked, while dynamic QR codes are editable and trackable. Both, static and dynamic QR codes are useful in making payments. However, in the case of dynamic QR code, one can also trace associated data. For example, various details like the number of people who scanned the code, the type of device used for scanning, the scanner's location, etc.
Mobile Payments
Google Pay and Apple Pay are the most popular forms of mobile payment. Also, known as digital wallets, mobile wallets, and e-wallets. Individuals can install e-wallet applications that allow them to link their mobile devices to their bank account, credit card, or debit cards. To make payments, they can scan QR code or make payments to other accounts using their mobile numbers. One-Time Passwords (OTPs)  help authenticate a payment before processing,
Unified Payments Interface (UPI) Payment
Unified Payments Interface (UPI) is a mobile payment system developed by the National Payments Corporation of India. It is regulated by the Reserve Bank of India (RBI). UPI is a real-time payment system specific to India. It enables peer-to-peer money transfer between two bank accounts through a mobile platform. UPI payment system eliminates the need to enter bank account information, or card details to execute a transaction and relies on a two-click factor authentication process to validate a transaction.
Contactless or Near-Field Communication (NFC) Payments
Current debit and credit cards are chip-enabled, which facilitate contactless or NFC payments. Earlier, consumers used to swipe their credit or debit cards. Now, they can simply make payments up to a certain value simply by bringing their plastic cards closer to a chip reading device to execute the payment.
In the case of mobile devices, applications such as Google Pay and Apple Pay allow NFC payments through the individual's connected bank account(s). However, in this case, instead of the plastic card, the smartphone needs to be in close contact with the NFC payment receiving device.
Digital Payments Trends
According to Global Payments Report, digital wallets, credit and debit cards will be the leading payment source accounting for 84.5% of e-commerce spend by 2024. With Buy now, pay later (BNPL) following second, with its market share increasing from 2.1% in 2020 to 4.2% by 2024.
Digital wallets could account for 51.7% of e-commerce payment volumes in 2024. While the direct use of credit and debit cards may decline.
In Europe, cash use declined by 33.6%. Cash volumes dropped by more than half in France (59.6%) and the U.K. (51.1%). Mobile Wallets accounted for 26.4% of the payments system in 2020.
In the APAC region, e-commerce is projected to grow 13% annually through 2024. Last year, APAC e-commerce transaction value exceeded U.S. $2.4 trillion and is projected to exceed U.S. $3.9 trillion by 2024.
Credit card seems to be the most preferred form of payment in North America, followed by mobile wallets.
Digital Payments Concerns
Even with the growing usage of digital payments, people are still concerned with the security and safety associated with digital payments. According to a research conducted in the U.S. by Visual Objects, 41% of the respondents were concerned about safety. While 7% think that with ease of payment comes the concern of overspending.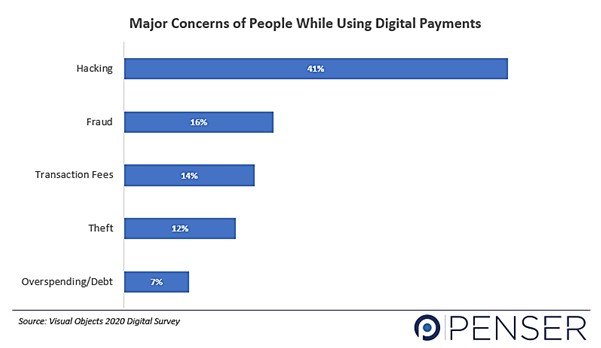 The risk of hackers and scammers cannot be denied. As the digital payments ecosystem continues to grow, the associated risks also increase. In 2020, more than 900,000 spam messages, 700 malware attacks, and 48,000 malicious domains were discovered in the first four months of 2020 according to an Interpol report.
In the UK, scammers called elderly people offering them shopping assistance during the lockdowns. Followed by them asking senior citizens for their bank card details. Many fraudsters across the globe are taking advantage of the pandemic. Some scammers send fraudulent online messages offering Covid-19 medical packages and relief payments.
As dependency on digital payments grows, the increase in hacking and online payments fraud is undeniable. Steps need to be taken to improve security. Additionally, identify more sophisticated methods of authentication before processing payments. This is crucial to the continued growth of digital payments.
Digital Payments Future
Faster payment options make businesses more efficient and successful. Fintech companies are continuously working on improving the digital payments landscape. Payment companies are working with various technology companies to provide payment solutions through internet-connected wearable devices. Soon, consumers can expect to make NFC payments through their Fitbit, or digital watches.
Additionally, consumers are also relying on Bitcoin and other digital currencies to make large value payments. With the help of blockchain-supported decentralized finance, instant verification of transactions is easily possible without relying on a central authority. Blockchain also makes these transactions secure and lowers fraud risk.
With the increased usage of digital payments, the need for advanced authentication processes also increases. Therefore, along with passwords, consumers can look forward to biometric systems as secondary verification processes, such as eye scan, facial recognition. Google Pay and Apple Pay among other mobile payment systems already provide fingerprint reading and 'Face ID' as a part of two-step verification in their payment processes.
Unlike cryptocurrencies, digital payments have seen significant support and boost from every government authority as it offers consumers and businesses ways of paying that are quick, convenient, and flexible. For example, the UK government's 'Open Banking' policy, which requires UK-regulated banks to let customers share their financial data, spending habits, and regular payments, with budgeting apps or other banks to encourage digital banking and payments.
Having said that, the convenience of digital payments outweighs the associated risks. Being aware and exercising caution can help avoid some of the risks. Therefore, companies are taking measures to prevent fraud along with educating consumers about the different ways in which they can avoid being subject to online payment scams.
As digital payments continue to become the new normal, with increased awareness, consumers can expect lower success rates of digital payment related scams.
If you are looking forward to innovating your existing payment infrastructure or transition to a digital payment platform, we at Penser could assist in designing and building a digital payments framework that can help ease and streamline your business process.
Penser is a specialist fintech and payments consulting firm with experience working for clients in the digital payments, card payments, and mobile payments sectors. Contact us to find out how we could help your business scale new heights.