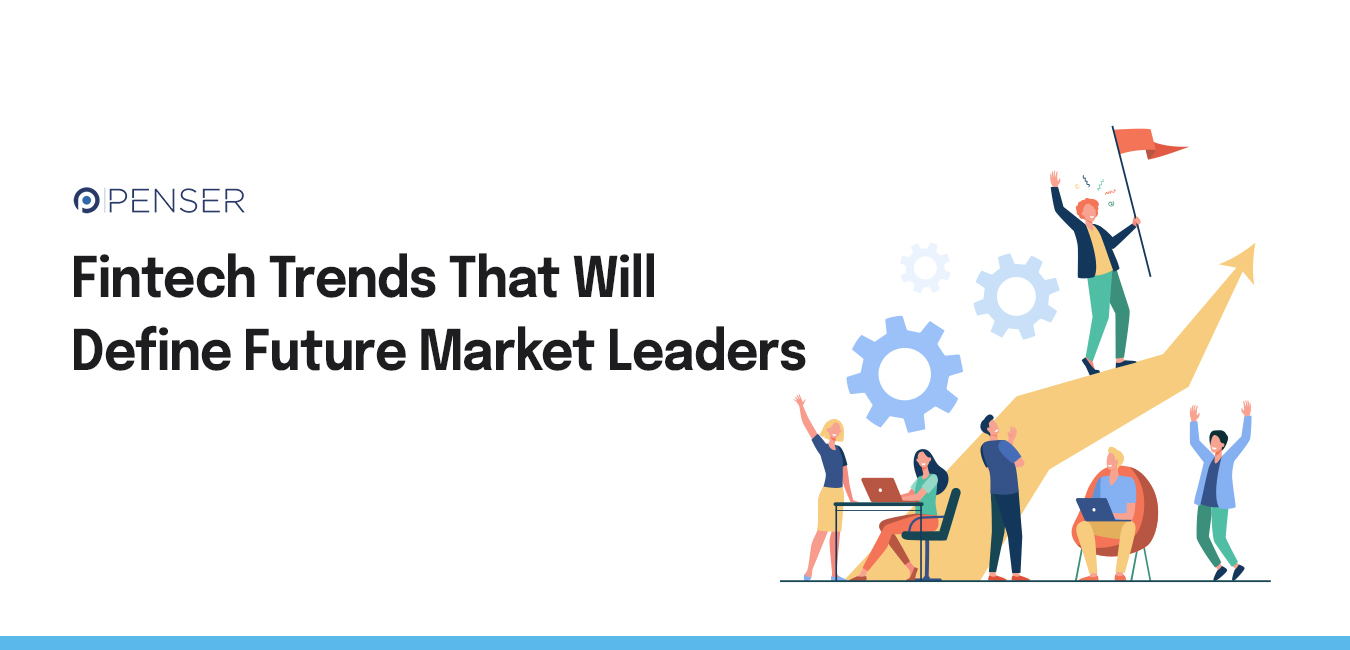 Fintech Trends That Will Define Future Market Leaders
In 2020 the fintech industry saw a significant increase in global fintech adoption and investment in Fintechs. The global fintech industry is expected to grow by 23.41% and reach $324 billion by 2026.
In order to stay at the top, companies need to level up their business strategy and planning process.  Here are some fintech trends that would differentiate fintech leaders from others in the fintech industry in the coming years.
Decentralized Finance (DeFi) Platforms
Decentralized finance enables the usual financial activities without a central governing body. This helps reduce costs due to peer-to-peer based deals which take place through smart contracts. Although many major players already facilitate smart contracts, the current usage is limited. Fintechs can lead the way by incorporating smart contracts and DeFi to cover other financial sectors, such as asset management, insurance, lending, yield farming, etc.
Increased Adoption of Embedded Finance
Embedded finance is the integration of a financial service into a non-financial service. It enables customers to access financial services through mobile applications.
In the current Covid era, almost every retailer/merchant is supporting online purchases and payments along with additional offers and services to improve the end-user experience. Fintechs that enable the smooth integration of additional financial services within mobile applications could look forward to gaining significant market share.
Embedded finance offers new digital opportunities to financial technology companies. This sector is estimated to be worth $7.2 trillion by 2030.
Potential of B2B Fintech Market
It is a well-known fact that traditional banks are not welcoming of start-ups and small businesses. Thus, fintech digital banks that target B2B banking, especially SMEs and start-ups, could maximize their chances of attracting investors' interest. Additionally, simplifying B2B transactions. In 2019, according to data from Venture Intelligence, business-to-business (B2B) fintech start-ups attracted close to US$657 mn, which was higher than the amount received by business-to-consumer (B2C) fintech startups.
Open Banking Platforms
Open banking is a government-supported initiative in many countries that require traditional, large-scale banks to share their customers' financial data with third parties. This data can be accessed and used by fintech banks/digital banks/challenger banks to target potential customers and provide offers and products that suit the prospective client's lifestyle. Open banking brings much-needed transparency to the banking world.
In the words of Imran Gulamhuseinwala, "Open banking should enable disruptive innovation in order to create new market opportunities and additional value."
Banking as a service (BaaS)
Banking as a service or BaaS providers is an intermediary between banks and fintech that offer financial services to end-users. FinTechs have been able to leverage Banking-as-a-Service to offer innovative services and access to unbanked and underbanked consumers, SME business owners, and immigrants.
With digital banking continuously evolving and pushing established banks towards innovation, BaaS also provided an opportunity for financial institutions to bridge the user experience gap.
Fintech companies are becoming increasingly aware of the opportunities BaaS offers. As a result, they are exploring more opportunities to improve customer experience and streamline their processes with BaaS. Fintechs that adopt Baas models now will stay ahead of the curve to increase revenue and extend their lifetime value.
Software-as-a-Service (SaaS)
To enhance end-user experience and to add value, many service providers extend additional subscription-based services to their customers. For example, banks providing software tools that enable expense management for retail consumers or monitor and maintain a ledger of business incomes and expenses. Fintechs that enable and extend such SaaS platform services to consumers could further expand their business portfolio.
Embracing and implementing innovations can provide fintech businesses the competitive advantage required to stay ahead in the game.
If you are looking forward to innovating your fintech business, diversifying your product portfolio, or expanding your business in other countries, Penser could be of help.
Penser is a fintech and payments specialist consulting firm, based in the UK. With experience working for clients in the digital payments, digital banking, and mobile payments sectors.
Our services include:
Contact us to learn how we can help transform and grow your fintech venture.