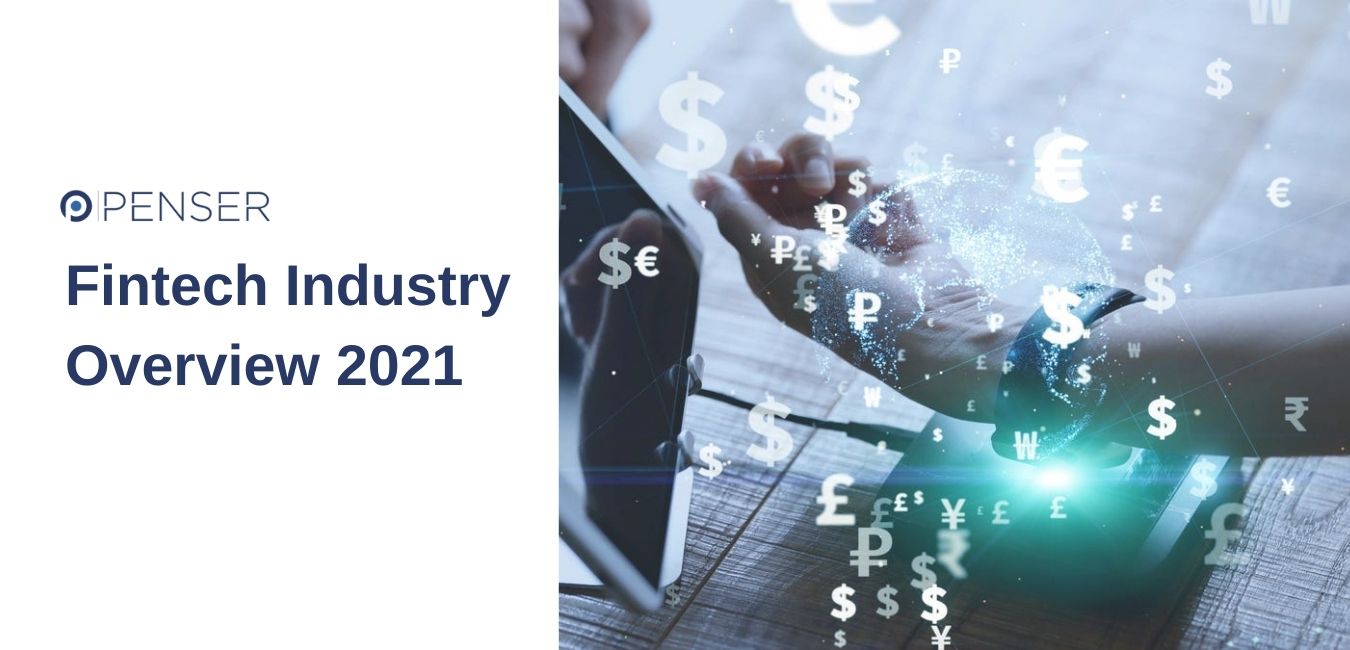 Financial technology (fintech) is currently the trending sector globally. In 2019, the fintech industry was valued at US$111,240mn. This is expected to reach a value of US$158,014mn by 2023, growing at a CAGR of 9.2%. The numbers may further increase by 2025 to US$191,840mn and US$325,312mn by 2030, growing at a CAGR of 10.2% and 11% respectively.
As a growing sector, fintech firms garner significant interest, and the questions are endless. Some of the trending queries are related to the current position of the fintech market, key players, and segments, fintech hubs, fintech unicorns, investment in the fintech sector, opportunities, and future growth prospects.
Here is an overview of the fintech industry in 2021.
Major Fintech Players
First and foremost, it is important to identify who all make up the fintech industry. Financial technology comprises of technology and financial companies working in conjunction to deliver financial services digitally to consumers. Thus, making access to everyday financial services, such as banking, making financial transactions, buying insurance, or borrowing extremely easy, swift, and convenient. However, the support of government regulatory authorities is equally important in facilitating fintech services. Open Banking in the UK & EU region is a great example of the collaboration between fintech firms, the governments, and traditional banks. Open Banking in the UK and EU would not have been successful without government support.
Like Open Banking, there are many other fintech initiatives that the government sponsors in many countries. The government is responsible for granting licenses, providing funds and tax breaks that leverage the fintech market growth. Government and regulatory authorities, such as Central banks are key fintech players with traditional banks, financial institutions coming a close second. Financial companies, such as Visa, Mastercard, and tech giants such as Amazon, Google, Apple are also some of the largest fintech players. With fintech market disruptors, such as Revolut, Uber, Robinhood, Stripe, and various other start-ups fully completing the market with their breakthrough fintech product(s) and/ or services.
Key Fintech Market Segments
The fintech market segments are categorized based on service type, service provider, and technology.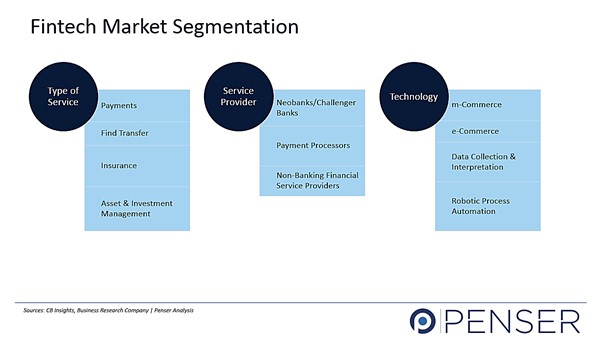 Some of the main and popular financial services are payments, fund transfer/remittance, personal finance, alternative financing, asset and wealth management, alternative lending, investment services, and others.
Deliverance of these services digitally is possible due to the associated service providers. Therefore, another way to segment the fintech market is based on the service providers. For example, payment processors, neobanks or challenger banks, and non-banking financial solution providers (insurance, brokerage, investment firms, etc.). Digital payment solution providers lead the way, capturing more than 42% of the total fintech market, and growing at a compounded annual growth rate of 10.2%.
Based on technology, the fintech market can be broadly categorized as mobile commerce, e-commerce, and financial data collection and interpretation, and robotic process automation. Currently, mobile commerce (m-com) is the leading segment in technology. Although, automation/robotic automation process or infrastructure is the fastest growing fintech segment under this segmentation, growing at a CAGR of 16%. For example, technology infrastructure involving KYC platforms, payment processing, and authentication for merchants.
The existing fintech business models currently comprise of financial management, digital payments, lending, infrastructure, investments, retail banking, cryptocurrency, and certain others. A major chunk of the market is concentrated in infrastructure (Klarna, Onfido, Feedzai).
Fintech Financial Hubs
Financial regulatory authorities across the globe are encouraging financial and technology companies to collaborate and come up with innovative financial products and services to make their country the leading financial hub. So, what is the present status of fintech financial hubs, and which country has the highest number of fintech unicorns?
Globally, as of February 2021, there were 26,045 fintechs worldwide. 10,605 fintechs in the American region, 9311 in the EMEA region, and 6129 in the APAC region. There are more than 145 fintech unicorns, i.e., financial technology companies valued above US$1bn.
United States
The U.S. leads with a total of 81 fintech unicorns. Some of these big names are – Paypal, Square, Stripe. Coinbase and Robinhood being the latest additions.
China
Followed by China, which ranks at number two in the list of fintech hubs. Some of the leading Chinese fintech unicorns are Ant Financial and Tencent. However, the recent crackdowns on crypto-mining and certain tech companies could act as barriers to the continued growth of the fintech domain.
United Kingdom
The United Kingdom ranks at number three housing 10 global fintech unicorns. Even after the Brexit, UK has managed to maintain its ground as a fintech hub. UK's fintech sector surpasses all the other sectors with 34% of the 100 tech unicorns comprising of fintech companies. A major reason for this being the supportive regulatory environment which also reflects in the UK's Open Banking ecosystem. The government supports and encourages data-sharing between traditional banks and fintech companies. This has led to the UK ranking number one for global open banking adoption.
India
India is another leading fintech hub with nine fintech unicorns. Four of these fintech unicorns were added in 2021. Paytm, CRED, Razorpay, and Groww mobile application are some of the leading names. In fact, 67% of Indian fintech firms have been established only in the last five years. The country has seen significant growth in the fintech sector, and an equally increasing consumer adoption rate.
According to a report by BCG and FICCI, the Indian fintech industry is estimated to reach a valuation of $150-160 billion approx. by 2025. With Indian fintech companies being worth three times more than their current value in the coming five years. Furthermore, UK challenger banks, such as Revolut and Tide have already started working on expanding in India. Thereby, benefiting from the growing demand for fintech solutions.
Brazil
Brazil is home to 380 fintech companies, with seven of these making it to the fintech unicorns list. The Central Bank of Brazil has been taking steps to build the country's financial ecosystem. These changes will positively impact both – fintech companies and open-banking platforms. Therefore, making it the potential hub for more fintech unicorns in the future.
Investment in Fintech
The year 2020 and 2021 have seen increasing investment in the fintech sector. In the first quarter of 2021 itself, fintech companies were able to raise US$30.90bn through 657 deals. The total amount raised by fintechs in the first two quarters of 2021 has already surpassed the total amount raised in 2020.
Many fintechs made it to the 'Decacorns' list, i.e. fintech companies which received more than US$10bn in funding.
Check out the list of Fintech Unicorns
According to CB Insights, 88 fintech companies raised more than US$100mn each. Most of these are the US and UK-based fintech firms. Some of the well-known fintech firms from this list are Stripe, Revolut, Square, Wise, Grab, Marqeta, and Robinhood. While South America received a significant portion of the fintech funding in the second quarter of 2021, growing at a rate of 153% between H1,2021 and H2, 2021.
Learn more about the fintech mergers and acquisitions of 2020 and H1, 2021
Fintech Trends & Market Opportunities
Mobile technology is one of the rising sectors. With consumers increasingly adopting mobile wallets and m-commerce globally. Smartphones are the preferred mode of making payments and carrying out other financial transactions by millennials, GenY, and GenZ. Mobile commerce (m-commerce) comprises 72.9% of the total online sales. Total sales using mobile platforms could reach US$3.56trillion by the end of 2021.
Another trending addition to the global fintech market is blockchain technology. Blockchain technology ensures safer transactions due to the fact that a new block is created for each transaction or any data which cannot be recreated or modified. Many companies are looking at integrating blockchain technology with their existing financial products and services. This will ensure not only safe but convenient method of carrying out transactions. Additionally, since blockchain technology supports peer-to-peer transactions with the integration of smart contracts, many companies are looking forward to creating a decentralized financial (DeFi) system. Blockchain-based DeFi system will make financial services affordable and accessible to everyone without the involvement of any middle person or institution.
Fintech companies and countries should consider taking advantage of blockchain technology and the increasing consumer adoption of mobile technology to build their fintech ecosystem. The government bodies need to provide additional incentives, such as tax breaks, or other benefits to encourage investment in fintech. Regulatory bodies need to take steps to ensure that none of their policies are backfiring and indirectly hampering the growth of the fintech sector. Thereby, reducing their chances of growing and becoming a fintech hub.
About Penser
Penser is a UK-based business consulting firm with expertise in fintech and digital payments. Our clients expand all over the world and are from different sectors, ranging from digital banks, digital payments, financial services providers, and more. We have had the privilege of working with some of the leading companies in their sectors.
If you are looking forward to getting an estimation of your company's market value or considering investing in new companies or venturing into the fintech or digital payments sector, Penser could be of help.
Contact us at hello@penser.co.uk to learn more about our services, or how we could help you innovate and grow your business.