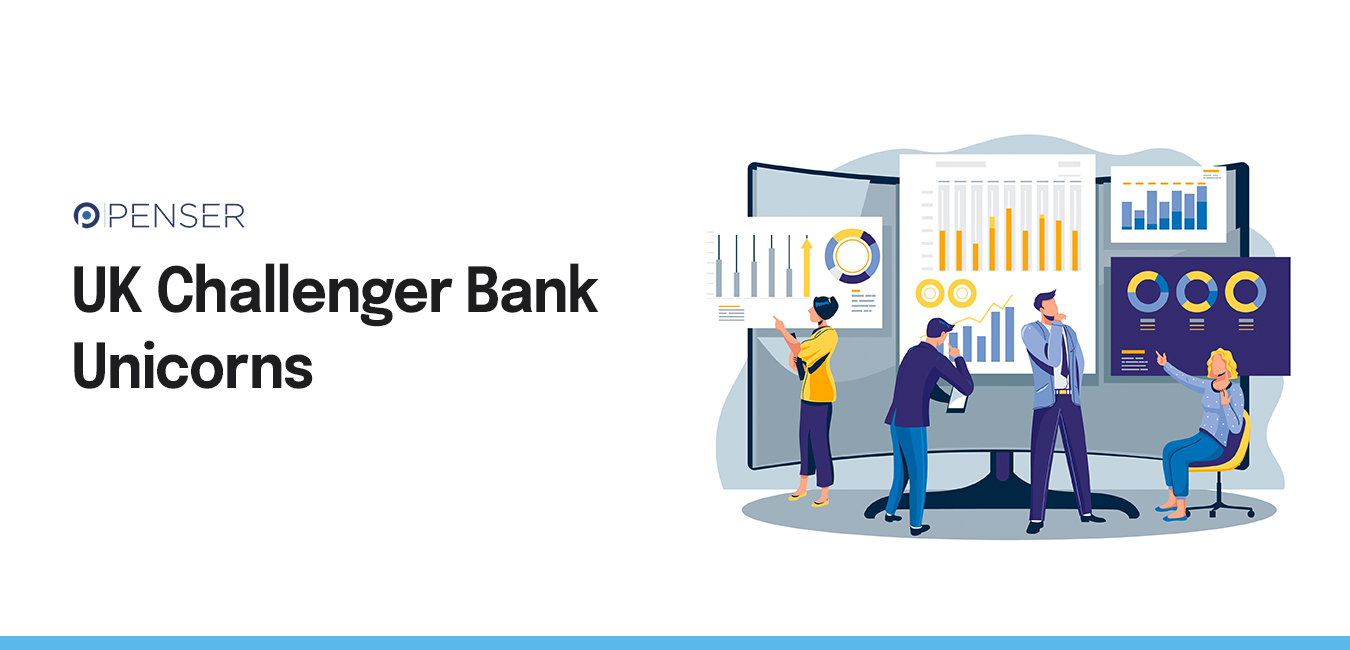 In the last few years, challenger banks have seen a substantial boom in the U.K. with 1 in every 10 Britons switching to a digital banking service provider.
Initially, a majority of these digital challenger bank account holders used their digital current accounts to manage and pay for their regular expenses; thus, maintaining a maximum of £1,000 in such accounts. However, with the diversification of the financial products and services provided by digital/challenger banks, many customers have also availed other services such as: business loans, mortgages, trading services, etc.
Additionally, the changing consumer habits with growing fintech adoption rate has been extremely beneficial for challenger banks. According to new figures from Innovate Finance, UK FinTech sector raised a record total of $2.9bn in the first three months of 2021, of which digital challenger banks have received the most investment.
Challenger banks continue to see huge infusions of cash from investors, who are counting on the ever-growing businesses of these digital bank start-ups. Just last week, Revolut was valued at US$33bn in a funding led by Softbank and Tiger Global.
Let us dig a bit deeper into the currently trending U.K. digital banks which are part of the 'Global Fintech Unicorns'.
UK Digital Banks Unicorns
Revolut
Revolut started as a 'travel card' providing affordable exchange rates. The bank charges 0.2% of each transaction as transaction fee. This still forms a critical part of the bank's income source especially now with its growing customer base. Although, Revolut now provides a variety of services ranging from personal accounts and business accounts to selling cryptocurrencies. The challenger bank's main income sources are transaction fees, foreign exchange fees, and subscription-based account fees.
According to Revolut's annual report, as of December 2020, in the UK, the bank has a customer base of 14.5mn personal account holders, and 500,000 business account holders. Revolut recently launched its services in India as a part of its global expansion plans. In addition to India, Revolut is present in the U.S., Singapore, Australia, and Japan.
This UK-based challenger bank unicorn has so far had 5 fund raising rounds, raising close to US$800mn in its latest Series E funding.
Monzo
Monzo is another trending UK challenger bank founded in 2015 by Tom Blomfield. The bank initially stepped into the banking world as a prepaid card provider. Customers could load funds onto before transitioning to a full bank account. Their mobile application allows customers to view real-time transactions, use their Monzo card in foreign countries without incurring additional fee expenses, monitoring, and managing expenses to easily transferring money to other accounts.
Currently, Monzo has more that 3.9mn personal banking customers, and has crossed more than £1bn worth of transactions in the UK. It is UK's second-most valuable fintech with a valuation of £2bn. However, it's value dropped by 40pc during its most-recent funding. Looking forward to expands its business in the U.S., and a possible IPO in the coming months, Monzo is all set to be the next highly valued global bank.
Starling
Starling is another challenger bank set to make a difference to banking. This challenger bank has seen the highest positive transition through UK's Current Account Switch Service (CASS). The bank acquired more than 12,000 customers through the CASS platform. Founded in 2017, within 5 years, the bank now has more than 2 million personal account holders and 300,000 business account holders.
Unlike other UK-based challenger banks, Starling has its vision set on the "banking as a service" (BaaS) platform with its strong technology and engineering backing. Currently, the UK's Department for Work and Pensions uses Starling's technology.
Like other challenger banks, Starling also intends to use its funding to expand its business overseas. However, additionally the bank also intends to provide BaaS platform and APIs to other businesses. This would help many businesses establish their own payment services without the need to build an entire banking platform from scratch.
Monese
Monese is a completely mobile-based banking application. The bank does not have a website.  Monese launched an easy to open bank account in minutes through their mobile application making it an instant hit amongst many individuals, especially foreigners, immigrants, and expats who lacked the usual documents required to open an account in the UK.
The bank currently has close to 2 million users. Back in 2016, close to 55,000 people installed the banking application within months of its launch, with total transactions value crossing £41 million. This challenger bank was growing at a 30% rate month-on-month.
Monese is in talks with crypto-exchanges over potential partnerships to help launch the new tools, and also offer crypto products through its banking application.
The bank will possibly hit the 'unicorn' status with its £1bn valuation as it is in talk to raise £100mn from investors.
CashPlus
CashPlus recently acquired the full UK banking license from the UK FCA which will help the Fintech accelerate its business growth. It targets SMEs and consumers with poor credit history, whom high street banks usually avoid.
Currently, the bank serves close to 1.6m customers of which 7% are new small to medium sized businesses in the UK. This digital bank's goal is to lend £1bn to SMEs and claim 10% of all new UK businesses by 2024.
Cashplus seeks to raise £50m this year to support further growth across all segments and unlock a higher proportion of deposit funding for SME lending following bank authorisation.
Atom
Atom is another UK-based challenger bank that works entirely through smartphone or tablet, making banking more accessible. However, unlike other UK digital banks which offer current accounts, Atom offers savings accounts, mortgages, and business loans. Atom has a range of "Fixed Saver" accounts with fixed rate savings accounts varying in length from 6 months to 5 years.
The bank has raised £429 million to date from eight funding rounds.  Its lending to SMEs has tripled to over £700 million. It the bank has taken over £400 million of mortgage applications as per its 2020-2021 financial report.
If you are looking forward to invest in the UK challenger banks sector or thinking of entering the UK digital banking market and need assistance with planning the business execution, or product launch, Penser could be of help.
Penser is a fintech and payments specialist consulting firm, based in the UK. With experience working for clients in the digital payments, digital banking, and mobile payments sectors.
Our services include:
Contact us to learn how we can help scale your business, or establish new businesses.