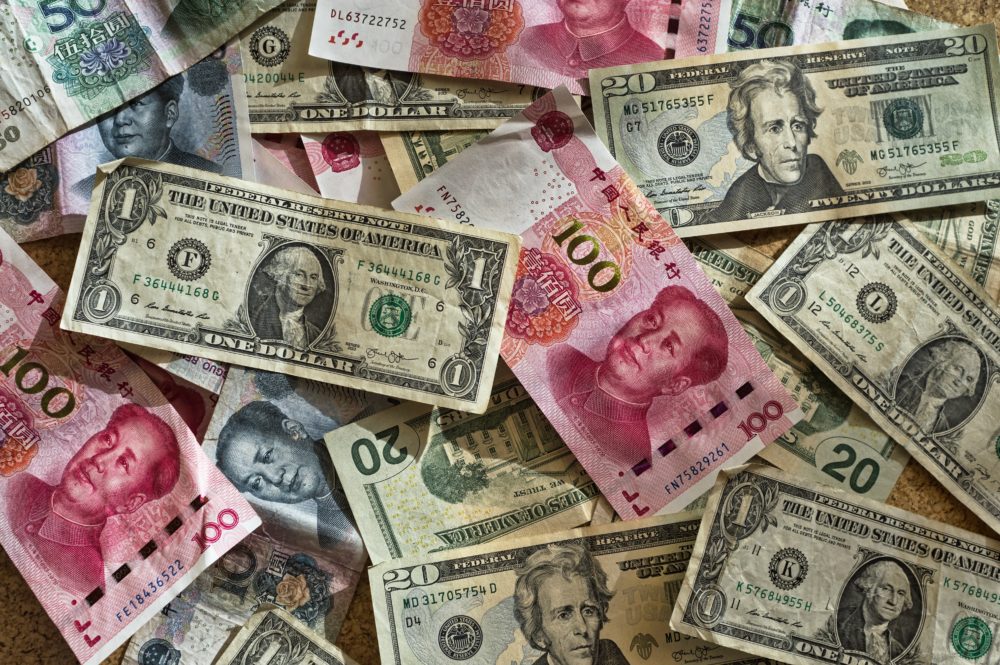 The ongoing global Covid-19 pandemic has already claimed several thousand lives and infected millions of people in the last four months. As businesses across the world have been forced to shut their doors due to lockdown and social distancing laws, thousands of people have lost their jobs. In the last six weeks, 30 million Americans have applied for unemployment benefits. The number of unemployed individuals across the globe is steadily increasing as countries around the world close their borders and enforce strict lockdowns, allowing only essential businesses to remain open. This has resulted in a global economic slump, with the International Monetary Fund predicting that the global economy will contract 3% in 2020.
The cessation of businesses due to a lack of operating capital is also impacting migrant workers who are now unemployed and unable to send money back to their home country. The World Bank outlined the impact of the coronavirus on foreign remittances by stating that global remittances are projected to drop by almost 20%, the steepest fall in recent years after hitting a record high of $706 billion in 2019.
This drop is particularly worrisome as last year, the World Bank reported that remittances sent by migrant workers are set to become the largest source of external financing in low-and-middle-income countries (excluding China) within five years. The amount of remittance inflows matches the level of foreign direct investments in these countries, and are the largest source of foreign exchange earnings (China excluded).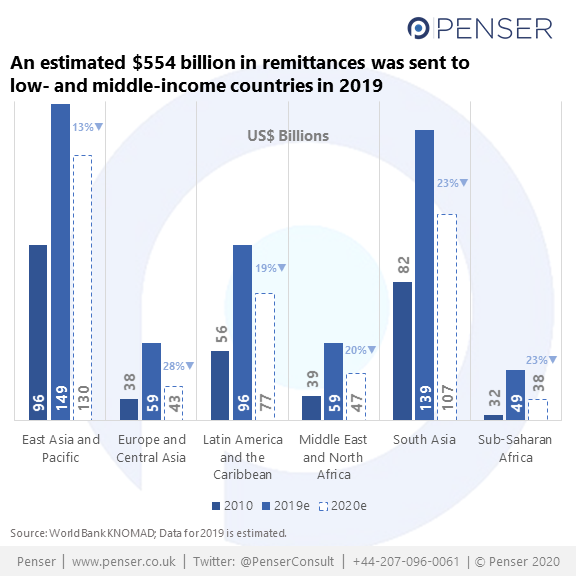 Drop in Global Remittances
Global remittances to low-and-middle-income countries are set to decline by 19.7%, hitting $445 billion in 2020 due to Covid-19. The impact of losing remittances can severely impact families that depend on it, leading to a lack of fulfillment of basic needs such as nutritious food and healthcare.
As developed economies in the West have been severely affected because of the Covid-19 pandemic, lockdown and social distancing laws have left migrants from developing countries without any source of income. In a dire employment situation, migrant workers are expendable. Without the offering of hazard pay, overtime pay, or any stimulus from governments, migrant workers risk losing their jobs, wages, and businesses during the pandemic.
The World Bank states that remittance flows are expected to take the biggest hit in Europe and Central Asia, with a decline of 27.5%. Sub-Saharan Africa, which notably includes a large amount of intra-continent money transfers, is set to witness a 23.1% decline in remittances. South Asian remittances, one of the highest across the globe, are expected to drop by 22.1%. The Middle East and North Africa region is set to experience a 19.6% drop followed by Latin America and the Caribbean at 19.3%. East Asia and The Pacific are expected to see the lowest drop at 13%.
Along with the loss of income, the high cost of sending large amounts of money across the globe have been a deterring factor for remittances. The World Bank notes that the global cost of sending $200 is 6.8%, a substantially high loss for larger remittances. Sub-Saharan African remittances charge 9%, even though two-thirds of the migrants are intra-regional migrants working in countries like South Africa.
The recent market volatility and the decline in the prices of oil will lead to an estimated 22% drop in US, UK, and EU remittances to South Asia to $109 billion. This is after a 6.1% increase in total remittances to South Asia in 2019. Remittances to India, the world's largest remittance market, are projected to decline by 23% to $64 billion. In comparison, the country received $83 billion in remittances in 2019, a 5.5% increase from 2018.
During the global financial crisis in 2008, global migrant remittances dropped 5.5%, with some regions such as Latin America and the Caribbean witnessing a sharp 12% decline.
Impact of Loss of Remittances
The decline in global remittances because of Covid-19 equals lower spending power for families and individuals in home countries. According to research, remittances are used by vulnerable families to invest in nutritious food, better healthcare, and invest in expensive prospects such as higher education. Remittances don't just reach immediate households but they are also distributed among family members and used to make payments at local businesses, thus stimulating the economy.
Foreign remittances make up 25% of the GDP for countries like Nepal, Haiti, Honduras, Kyrgyz Republic, and Tajikistan and over 5% of the GDP for thirteen African countries. Several million people across the world depend on remittances sent by relatives and friends to be able to pay their rent, afford food and healthcare.
The remittances in cash are unrecorded, and according to sources, may amount to billions of dollars. With travel suspended in most parts of the globe, the hope of receiving financial aid in person has also disappeared.
The Penser Perspective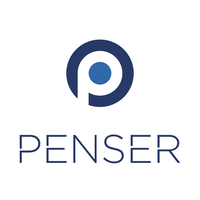 As developed economies try to flatten the curve and curb the spread of the virus, it is important for them to include migrants in their healthcare and economic policies. Inclusive economic policies can help migrants attain financial aid that can be sent to their home countries. Local economies are also struggling due to lockdowns — the loss of income from tourists, exports, and more due to closed borders is an added economic and social issue that developing countries are currently facing.
Fintechs such as Airwallex, TransferWise, Money Gram, Xoom (a PayPal service), that offer cheaper and faster cross-border remittance services are going to witness an increased demand because of World Bank's recommendations to adopt digital money transfers for speed and efficiency. In addition, the global Covid-19 pandemic has increased the need for online financial services as many businesses cannot open their physical branches and stores. Companies offering innovative digital financial services are well-poised to meet the needs of customers during this healthcare crisis.
At Penser, we are experts in payments consulting and fintech consulting. We have a strong track record of working with companies in developing economies, along with a focus on remittance services. Contact us to find out more about our digital transformation, strategic planning, and due diligence services.