Network International, one of the biggest payments processing companies in the Middle East and Africa, recently launched its initial public offering on the London Stock Exchange. With the price range initially set at 395 pence to 465 pence, shares jumped 21% in trading to 547 pence a share, giving it a market value of £2.6 billion pounds. With its IPO, Network International is among the earliest companies of scale to dip its toe in Europe's slow IPO market, with investor appetite being tempered by concerns over Brexit and the slow growth in Germany and France.
The institutional offer size equates to a free float of at least 25% of the company's shares, or at least 125m shares, with shareholders Emirates NBD PJSC, Warburg Pincus and General Atlantic reducing their stakes. Citigroup, one of the companies working with the firm on the listing, has been given an option to purchase up to 15% of the total number of institutional shares offered, and earlier, Mastercard agreed to invest $300m through its subsidiary as part of the listing.
Network International (NI) has provided payment solutions for banks, financial institutions, and retailers in the Middle East for over 20 years. Founded in Dubai in 1994 as a wholly owned subsidiary of Emirates Bank, they offer a host of payment products and services to more than 65,000 merchant partners and 220 financial institutions in over 50 countries. The acquiring and processing solutions include traditional point of sale devices, mobile and e-commerce solutions, and a comprehensive range of value-added services.
With its impressive £2b valuation, NI shows that well-established players with an adaptable approach can still elicit excitement from investors. It bears examining what factors have influenced NI's rise.
A strong regional focus
The company is exclusively focused on the Middle East and Africa (MEA) region. With the global shift towards digital payments, and the fact that the region is still early in terms of non-cash payments penetration, NI has effectively poised itself on the cusp of huge growth.  According to the World Payments Report 2018, non-cash transaction volumes in the CEMEA (Central Europe Middle East and Africa) region were $52.5 billion in 2016 (representing 10.81% of the global volume). With growing mobile penetration and digital technology, governmental financial inclusion measures, and a rising young population, this number is expected to grow at a CAGR of 20.2% to $131.3 billion in 2021 (14.98% of global volume).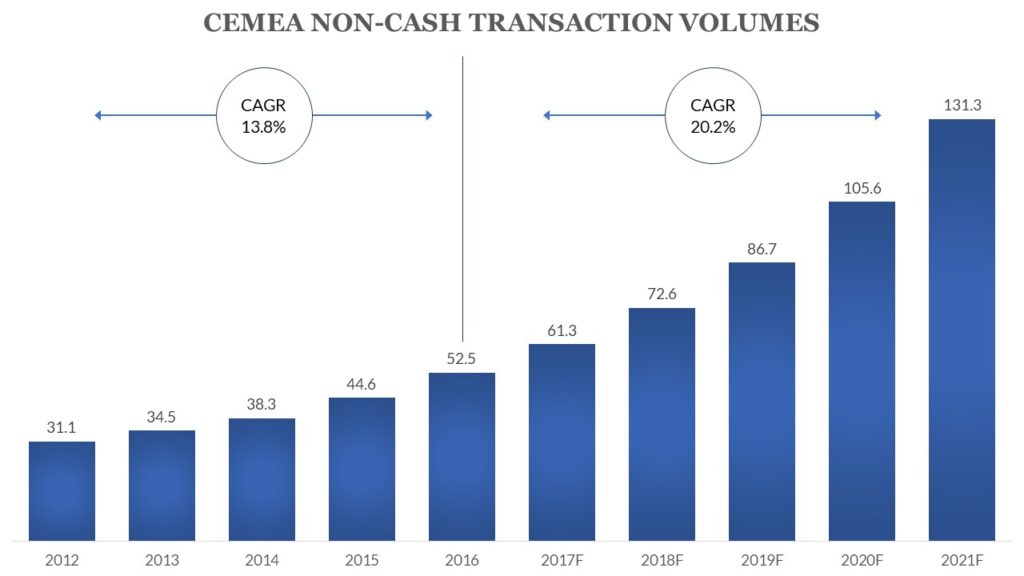 Dominance in the market
In 2017, NI was the leading acquirer in the region with about 19% market share, and the leading issuer processor with around 24% market share. This allows the company to benefit from economies of scale, letting it invest and develop products and services that can cater to regional requirements and be rapidly deployed through its platforms. With its solid foundation in the region, NI boasts an average customer tenure of 15 years for its top ten clients in merchant solutions measured by TPV (total payment volume) and 17 years in issuer solutions for its top ten clients measured by revenue (in 2018). This strong foundation of customers gives it a sustainable competitive advantage due to the high costs involved in switching digital payments processing providers.
An enviable and steady growth rate
NI has shown strong growth with a CAGR of 13%, resulting in a growth in revenue from $235m in 2016 to $298m in 2018, with double-digit growth in their two main business lines – Merchant and Issuer Solutions. This has also corresponded with an EBITDA growth of 11% annually over the same period, with a 49% underlying EBITDA margin achieved in 2018 (or $152m). Their revenue mix is also fairly balanced, with 53% of its 2018 revenues generated by issuer solutions, and 46% generated from merchant solutions.
A robust network
NI delivers its payments solutions through its scalable and secure omni-channel technology platforms, Network One and Network Lite, tailored to the specific needs of customers in the Middle East and Africa region. NI is also the first independent vendor certified by both Visa and Mastercard for payments in the Middle East and a member of the JCB and UnionPay card schemes. They also own and manage the Diners Club International franchise in the UAE, Egypt, Lebanon and Jordan and is a Payment Card Industry Data Security Standard (PCI DSS) certified company.
As a result of this, NI can leverage each point of the transaction process to maximize revenue. NI can also potentially earn multiple fees on a single transaction by providing both acquiring and issuer processing services. It can also both cross-sell its products across its existing base, as well as offer its selection of products to potential customers.
Investments in technology
From 2016 to 2018, NI invested $91.2 million in technology transformation, migrating over 70% of its customers onto its new Network One platform by 2018. By the end of 2019, not only will they have migrated all their customers to the new platform, but Network One is also expected to replace the existing First Data VisionPLUS system in the UAE.
The advantage of developing its own technology is NI has successfully established a foundation that will be scalable going forward. They now operate two platforms – Network One (for larger customers), and Network Lite (for smaller and medium-sized customers). These platforms have the added advantage of not only being agile but also are omni-channel and focused on the specific requirements of the Middle East and Africa region.
Growth of e-commerce in the region
With growing digital penetration, the MEA is projected to have significant e-commerce growth. At a 19.9% CAGR from 2017, e-commerce sales are expected to reach $80 billion in 2022. Similarly, m-commerce is expected to grow to $57.8 billion (a CAGR of 32% from 2017). The majority of Network International's revenue is derived from card present transactions and its product suite for eCommerce is not as flexible or quick to integrate as other competitors in the region that have platforms that are purpose built for eCommerce, such as Payfort (acquired by Amazon).
However, today, cash-on-delivery remains one of the biggest payment methods, with around 62% of Middle East and North Africa (MENA) shoppers preferring it over other methods. The MENA region is still largely a cash-based economy, even in the UAE, which boasts a 56% credit card penetration.  Mobile wallets have been gaining some traction in the region and could potentially provide an opportunity for a new player with the right infrastructure in place to circumvent Network International (in much the same way that Chinese mobile wallets have achieved dominance).
Low threat of competition
The merchant solutions and issuer solutions markets are rife with competition, especially considering the size of the Middle East and Africa region that NI operates in. In the Middle East, financial insourced operations are its key competitors. In the UAE, competitors include Mashreq Bank, FAB and ADCB. In other markets in the region, competitors include Middle East Payments Services, Global Payments Services, CSC Group and Arab Financial Services.
In Africa, competitors include players such as Interswitch, FIS (now merging with Worldpay) and the insourcing capabilities of both pan-African and regional African banks.
However, NI has a distinct advantage over its competition because of the volumes they deal with, and their ability to offer solutions across the entire region. Due to this, NI has achieved significant coverage over Africa and can process transactions across schemes and payment methods, a feat that regional players have had difficulty in replicating. This give NI greater scale and profitability, which acts as a strong barrier to entry against other competitors capturing market share. As mentioned earlier, NI commands 19% of the acquirer market, and 24% of the issuer processor market, making it the lead player in both markets.
Capable leadership at the helm
The management team includes executives with regional and international experience with an average of 20 years of industry experience in financial services. Simon Haslam, the CEO, is well regarded in the payments industry and was previously the CEO at Elavon (the merchant acquirer owned by US Bank). The executive team combines individuals with past experience in the region with Network International as well as globally with companies such as Elavon, Barclays and WorldPay.
Network International has proven that a well-established company in the payments processing space can leverage its existing services while also adapting their services for the dynamic digital era. The merchant acquisition space can be tricky, especially since the industry changes every day. New players are redefining the rules, and it takes knowledge and skill to understand how to play the game.
Penser has worked extensively with clients across the world on strategy, due diligence and digital transformation initiatives within payments. We've worked directly with private equity firms, venture capital investors and corporates, and provided them with commercial and technical due diligence support they needed in the payments and financial services industry – especially in the field of merchant acquiring. To learn more, visit our due diligence consulting services page.