Recently, Apple launched the Apple Card, its latest foray into digital payments services. The Apple Card is designed as a credit card for iPhone users, with users being able to sign up through the phone, and immediately start using it with their Apple Pay accounts. Apple has partnered with MasterCard and Goldman Sachs (their first entry into the retail card market), and, as with everything Apple, the hype machine is already going great guns.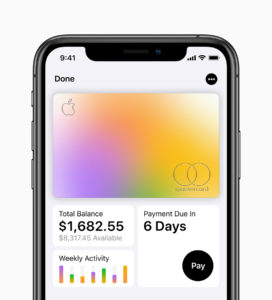 But is the Apple Card worth all the hype? Or is it merely another entrant in the growing cards market? Let's take a closer look.
The Apple Card features
Easy sign-ups and a cool-looking card
The Apple Card will allow users to easily sign up through the Wallet app on their iPhones. Once approved by Apple's murky qualification standards (which include your credit score and "other factors"), the user will get instant access to a digital version of the card. The physical chip-enabled card – a sleek laser-etched titanium card that is sure to appeal to Apple's die-hard fan-base – will then be shipped to you shortly.
Will this revolutionize the industry? Probably not. Apple is cleverly utilizing its existing audience and will undoubtedly be able to rack up users quickly, but these features are in line with what we've been seeing from other players in the market already. While its numberless card is new, legacy systems still require a number, and it's unlikely that that's going to change in the near future. Apple recognizes this and allows you to generate a virtual card number when need. The Apple Card also does not support contactless payments, so you can't just tap the titanium card to a terminal.
Improving the user experience
One of the nifty features Apple has touted is the app's ability to translate transactions into a much more manageable interface. It categorizes your transactions so that you can easily see what you're spending on and how much in real-time on the app. It also uses machine-learning to pinpoint where and what stores you've visited, instead of the usual confusing corporate nomenclature.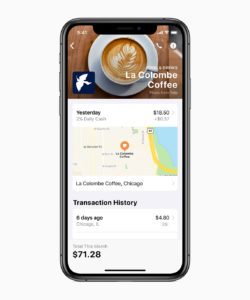 Other features that will be appreciated by users are the 24×7 customer support through Messages, and the simple payment schedule – Apple Card payments are due on the last day of the month.
Is this a game-changer? Maybe. While it's not new to provide a categorized breakdown of your spending activity in app, it is clever to give users the ability to easily identify where those transactions were made. Many consumers feel banks simply collect their data but choose not to share it with them, all so they can hit them with late fees in the future – this feature could change all that and will certainly be appreciated by users.
Of course, there are incentives
The Apple Card charges no fees – no annual fees, cash-advance fees, late fees, international fees, or over-the-limit fees. However, you will still accrue interest if you're late on payments, and variable APRs range from 13.24% to 24.24% "based on creditworthiness". Apple also provides a built-in interest estimator though that allows you to track how much you'll owe in interest if you let your balance add up.
The Apple Card also provides a daily cash back rewards system – 3% on Apple purchases (including digital services), 2% on Apple Pay transactions, and 1% on all other purchases.
Is this new? Sadly, no. What might be the most disappointing aspect of the Apple Card is that – aside from the flash and sizzle, the Apple Card provides fairly run-of-the-mill benefits, while missing some others, such as a sign-up bonus. Other tech companies, such as Amazon and Uber, have offered better rewards when they entered the cards market (Amazon offers 5% cash back on Amazon purchases and a $50 gift card when you sign up; Uber offers 4% on all dining as well as $100 back when you spend $500 in the first three months).
While they may be providing competitive rates and loyalty benefits, this is not really an innovation in the well-established cards market. Just to list a few – the Citi Double Cash card offers 2% cashback on all purchases; the Capital One Quicksilver Cash Rewards card offers 1.5%; the Discover It Cash Back card earns 5% on certain categories which rotate each quarter; and the American Express Blue Cash Preferred Card earns 6% on groceries. Even when it comes to Apple purchases, it doesn't offer the best deal – the US Bank Altitude Reserve Visa Infinite offers 50% more cashback!
A new type of security
Apple's "banking" big on security and privacy with the Apple Card. It assures users that it won't see what you're buying or where you're buying it, and while Goldman Sachs will use your data to operate the card, they will never share or sell your data to third parties.
From a practical standpoint, the absence of card numbers and a CVV does make it more secure, with transactions being authorized through Face ID or Touch ID and a one-time password sent to your phone.
This is exciting, yes? Yes! When it comes to security, Apple utilizes its technological advantage to establish an arguably simpler and better way of conducting transactions. Having already proven the stability of its Touch ID and Face ID security systems, they are able to extend its application into a new space that prioritizes security. This will also have the added advantage of further embedding the user in the Apple universe.
What else is out there?
Apple has the indisputable advantage of being one of the largest companies on the planet, which is why it's not surprising that when they sneeze, the world shouts back "bless you!" However, there are a lot of new and interesting players in the global digital cards market today that deserve your attention as well.
The highlights:
The Zerocard is a numberless chip card powered by MasterCard and Evolve Bank & Trust
No annual, maintenance, foreign transaction fees, or any others; however, there are late payment fees (up to $27) and returned payment fees (up to $25)
Applicants must pass a credit check and satisfy "certain underwriting criteria"
You can track your spending alongside deposits in the Zero app on your phone, and the app also provides merchant names and locations
An APR of 24.99% applies on purchases, balance transfers, and cash advances
Zero offers 4 cards –

Quartz – Zero's entry-level card with 1% cashback
Graphite – 1.5% cashback and 0.5% in rewards annually on average Current Position. The Graphite card requires referring 1 friend or $25,000 in annual spending
Magnesium – 2% cashback and 1% in rewards annually on average Current Position. The Magnesium requires referring 2 friends or $50,000 in annual spending
Carbon – 3% cashback and 1.75% in rewards annually on average Current Position. It requires referring 4 friends or $100,000 in annual spending

The highlights:
A numberless card chip card powered by Visa
Variable APRs range from 15.24% – 26.24% with no fees
Easy tracking of spending and money management with all your checking, credit and other accounts visible in one app
You can get a Petal card without a pre-existing credit score or an up-front deposit

The highlights: 
Two card options provided –
A. The Journey Credit Card:
For users with limited credit history
24.9% APR (variable, representative)
No fees on international purchases
Initial credit limits from £150 to £1,200
B. The Cashback Credit Card:
For users with good credit history
18.9% APR (variable, representative)
No fees on international purchases
0.5% cashback on all purchases worldwide
So what's the takeaway?
Ten years ago, the Apple Card would have certainly stood out from the pack. However, in today's competitive digitally-inclined financial world, the Apple Card underwhelms. It's a good product, but not the kind of game-changing innovation we've come to expect from the company. However, Apple has a steady track record of innovation in whatever they do. Given their new strategic focus on services, it's likely that they will be building on this foundation and start including new features that remove the hassles associated with updating cards on apps and foster better loyalty.
By entering this space, Apple may also have inadvertently killed many up-and-coming credit card fintech startups who were thinking about entering the market with a similar product. Apple's entry is likely to spur other big players, like Google and Samsung, to launch similar services, making it much harder for a new entrant to secure venture capital funding or to compete. Digital wallets on their own may not be very profitable for these technology companies relative to their scale, but they can serve as a stepping stone to a much larger profit pool – consumer lending.
And that should make traditional banks very worried.
Penser is a specialist consulting firm that assists companies in their investment decisions, innovations and operational challenges related to payments and digital financial services. To learn more about how we can help your business, click here.