As the fintech sector grows across the world, more and more countries are establishing stricter guidelines and regulations to ensure more secure and smoother services. Since the sector is so dynamic, however, the regulatory landscape is constantly changing, with companies struggling to hit the ever-evolving goal of being compliant. Between 2008 and 2016, there has been a 500% increase in regulatory changes in developed markets. Being non-compliant has serious consequences – the US Securities and Exchange Commission filed 95 new enforcement actions against public companies in fiscal year 2019, the most it's filed in the past decade.
This is likely one of the reasons that's driving an increase in the number of regtech start-ups today, and why funding in the sector is growing. Global private investment in regtech hit $2.5 billion over 145 deals.
2019 saw 317 regtech deals, almost twice the number of deals in 2018. This burst was largely driven by increased investment in cybersecurity companies.
What is Regtech?
Regtech – a portmanteau of "regulation" and "technology" – refers to the use of new technological solutions to regulation-related activities. Regtech provides a digital solution to the analog problems of reporting and compliance, thereby allowing companies to automate and simplify compliance functions. Innovations such as big data, artificial intelligence, machine learning, biometrics and more are effectively used to solve regulatory issues without depending on human intervention.
The regtech market is growing at a CAGR of 52.8% and is expected to reach $55.28 billion by 2025. The market has already expanded to a point that there are hundreds of companies in the space, each focusing on a specific niche. One report estimated that regtech spending will hit $76 billion by 2022, a big jump from the$10.6 billion spent in 2017. The same report predicted that 34% of all regulatory spending in 2022 will be due to regtech (as compared to 4.8% in 2017). In fact, 2020 is expected to see more than $53 billion in investment in regtech.
If you'd like to know about key players in the space,  Fintech Global compiles an annual list of the top 100 regtech companies every year. Deloitte also maintains a more exhaustive list of players in the regtech universe.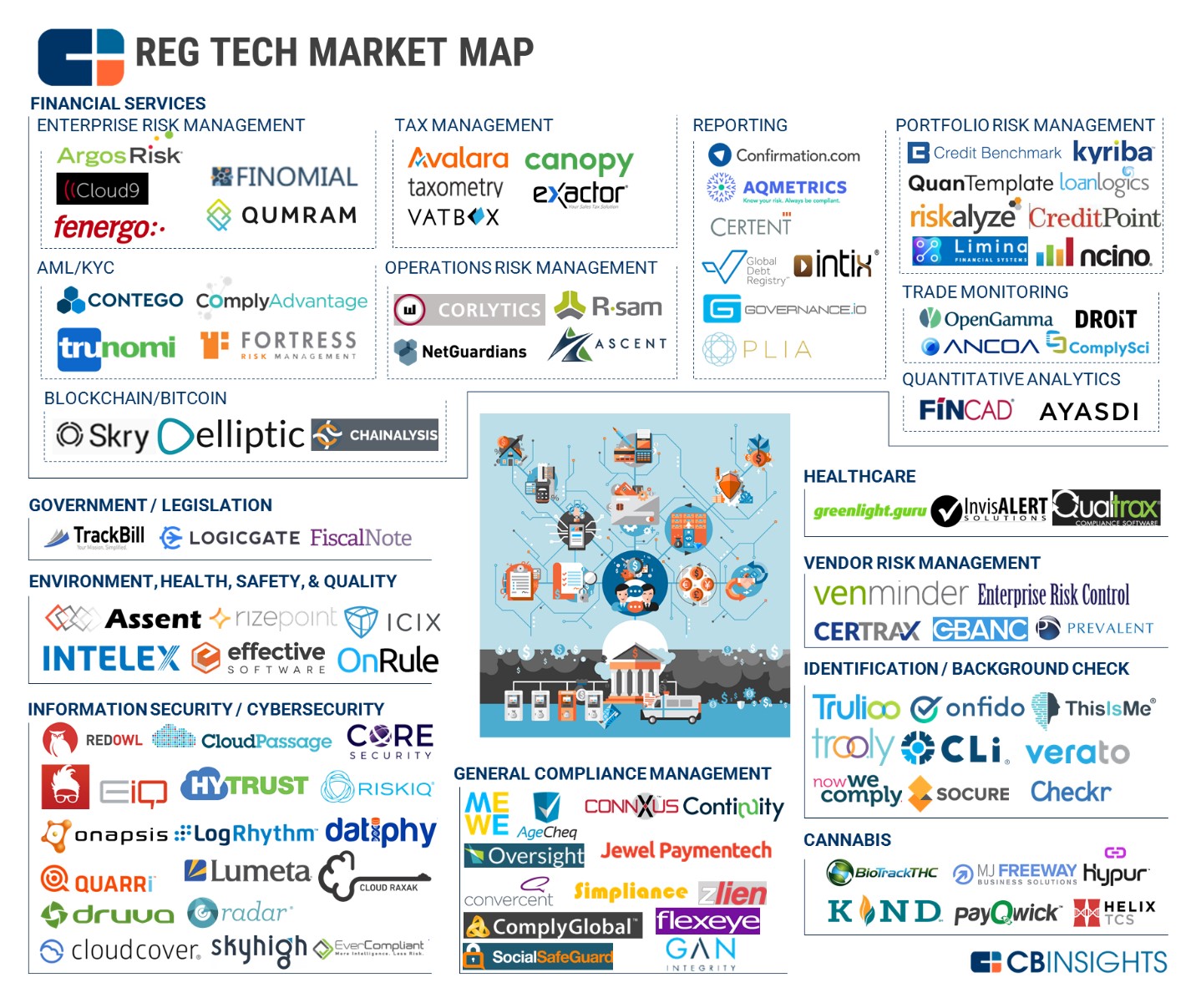 What's driving the growth in Regtech?
1. Increased regulations
There is an ever-growing number of regulations – and regulatory bodies – that's forcing companies to stay on their toes when it comes to regulatory compliance. With the recent implementation of GDPR and PSD2, for example, regulatory expectations in the UK and EU have changed dramatically, putting more pressure on financial institutions to adapt their practices and policies accordingly. There are also an increasing number of watchdog bodies. In the US alone, regulatory bodies include the Federal Reserve Board, the Federal Deposit Insurance Corporation, the Office of the Comptroller of the Currency, the Office of Thrift Supervision, the Commodity Futures Trading Commission, the Financial Industry Regulatory Authority, the Securities and Exchange Commission, along with state-specific bank, insurance and security bodies. Each of these bodies has a specific set of requirements and guidelines, which may be aligned towards similar goals. As a result, companies are constantly looking for easy and effective solutions that allow them to check all the right boxes.
2. Compliance is expensive
Ensuring that the company stays compliant is becoming a much more expensive task, with one report from 2015 estimating that it now costs an average of $6,000 to onboard a new client (depending on risk rating and the local rules).
3. Non-compliance is more expensive
Being non-compliant is also expensive. In October 2019, the Financial Industry Regulatory Authority (FINRA) fined BNP Paribas $15 million for AML and supervisory failures over four years. In 2018, FINRA had similarly fined Morgan Stanley $10 million. 12 of the world's top 50 banks were hit with fines in 2019, with one Swiss player being hit with a massive $5.1 billion fine for AML breaches. Another report also found that 58 AML penalties were handed out globally in 2019, totalling $8.14 billion, averaging around $145 million per fine.
Clearly, regtech is likely to only become more important as we move into a much more complicated fintech arena. As expert payments consultants in the fintech space, Penser tracks growth and innovation in the regtech sector, especially considering much of it is driven by innovations in fintech. We've acted as fintech consultants to clients across the world and have helped them make more informed decisions regarding their investments. If you'd like to know how we can help you, please contact us.