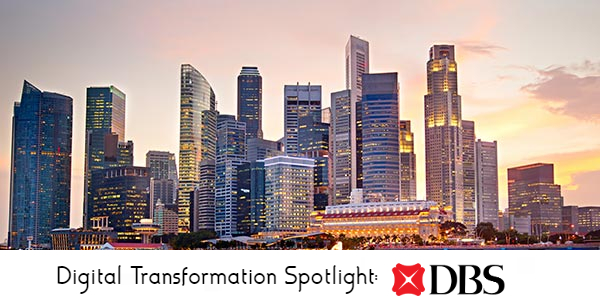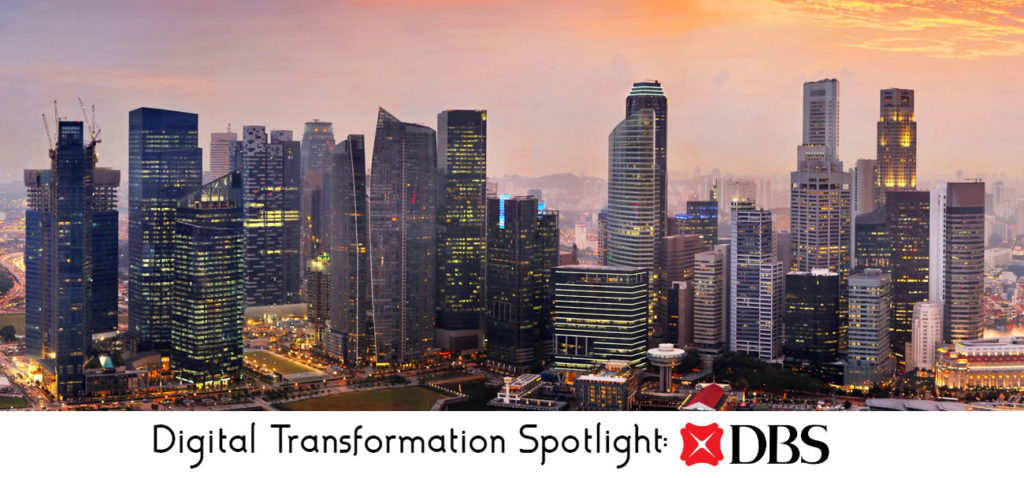 Headquartered in Singapore, DBS's digital transformation journey has been lauded by both their consumers and experts. The bank has six main markets – Singapore, China, India, Taiwan, Indonesia and Hong Kong. Awarded the 'Best Bank' title for 2018 by Global Finance, DBS has also won the 'Asia's Best Digital Bank' accolade from Euromoney in 2017[i].
As Southeast Asia's largest bank, it boasts of a strong, focused digital transformation journey that began over ten years ago with the complete change in the work culture of the 22,000-employee workforce[ii]. From 2009-2014, CIO Dave Gledhill notes that they worked on 'fixing the basics'[iii]– this included a thorough revamp of their IT systems among other aspects. Their strategy also included analysing the way tech giants such as Facebook, Amazon and Google went about improving their digital technology and services. Through 2017, DBS's technology, hardware, data centres, network management and app development became 85% insourced. Nearly SGD 5 billion has been invested over the years into digitizing the bank's services and functioning itself – and the rewards include higher profits, increase in productivity and a strong preference by consumers. In 2018, the bank recorded a 28% rise in their net profits, of SGD 5.63 billion[iv].
As explored below, most of DBS's digitization projects involve pairing innovative technology with the needs of the customer.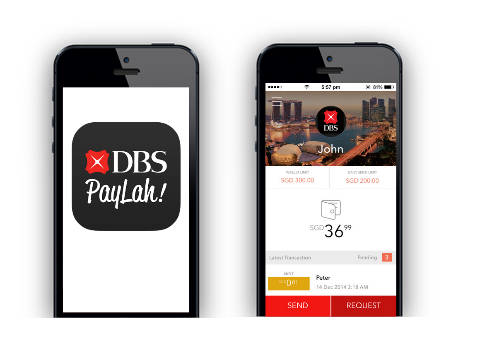 With over 785,000 users, DBS PayLah! is Singapore's fastest growing personal mobile wallet since its launch in May 2014. The first mobile wallet to enable QR code payments, it processes over 15,000 peer-to-peer transactions every day. PayLah! also allows payments via mobile numbers and payment links, making it an easy payment option for bills, shopping and (bank) transfers.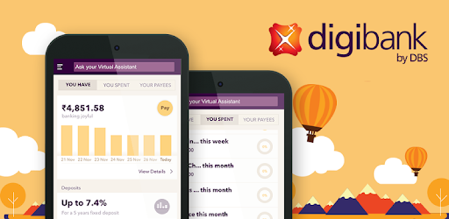 Expanding their digital reach, DBS launched the first digibank in India, offering a 7% interest rate in 2016. With over 1.8 million customers by the end of 2017, the bank provides a 24×7 AI-driven virtual assistant for customer queries while offering a paperless, signature-less and branch-less experience. Consumers are also offered free cash withdrawals at over 200,000 ATMs across the country.
The success of their digibank initiative in India prompted DBS to launch their digibank in Indonesia within twelve months, offering 'an entire bank in a phone'. Leveraging Indonesia's e-KTP biometrics programme, DBS offers a 3% interest rate from the first rupiah, i.e. without any minimum balance requirements. For their account holders, they offer a 6.25% interest rate on deposits starting from 5 million rupiah.
Other interesting features include embedded soft-token security (dynamic in-build security that eliminates the need for OTPs) and the ability to transfer 200 million rupiah per transaction and 500 million rupiah per day and withdrawals without any fees. DBS aims to have 3.5 million users within five years.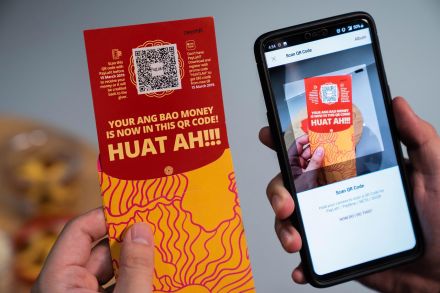 On January 25th, 2019, DBS launched their QR Ang Baos, the world's first digitally loadable red packets, ahead of Chinese New Year. Over SGD 1.3 billion was loaded onto their QR Ang Baos with 64% of the users sending SGD 8 or above. DBS is no stranger to integrating digital initiatives during celebrations – in 2015, they launched the DBS PayLah! e-Ang Baos which had double the number of users in 2019, with a jump of 40,000 new users during the CNY period. Appealing to the customers and keeping with Singapore's Year of Zero Waste (2019), DBS has also provided recycling bins for red packets and the QR Ang Baos.
The returns from DBS's digital transformation strategy have been attractive. CFO Chng Sok Hui revealed that the bank now generates double the income[v] from digital customers as it earns from traditional customers. In 2015 itself, the bank recorded that nearly 99% all customer interactions were digital in some form or another.
In China, customers can complete the onboarding process for DBS online banking in just three steps on the WeChat platform and enjoy access to services 24×7. In Taiwan, they collaborated with ibon (a multi-functional kiosk) where customers can print their personal loan application at 7-Eleven, allowing customers to apply for personal loans at 5,000 outlets, via delivery service. These applications now account for 15% of all new personal loan applications.
Cultural Sensitivity: An Asian Perspective
Along with focusing on digitising their services, DBS also altered the way it connected with their customers. DBS CEO Piyush Gupta instituted a corporate policy focused on 'Asian-ness' to redefine 'Asian-service'. The bank refocused their services to mean, Respectful, Easy to deal with, and Dependable (RED). COO Technology and Operations, Paul Cobban instituted a series of process-improvement events: five-day cross-functional workshops focused on eliminating wasted time, where the metric was the customer hour. Over 250 million customer hours of waste were prevented due to this restructured understanding.[vi] A core aspect of DBS's digital transformation is the changes it made within the workforce – encouraging a digital mindset, and asking the then 22,000 strong workforce to work like a start-up[vii]. This meant an increase in experiments, adoption of a dedicated working spaces and being the first bank to use Cloud productivity technology (such as Office 365).
Making themselves 'invisible' in the banking process, DBS has created an accessible, approachable form of digital banking.
DBS has also run an accelerator programme[viii], from Hong Kong since 2015, partnering with over 30 start-ups. DBS (Hong Kong) CEO Sebastian Paredes notes, "We believe the mutual exchange of knowledge and best practices with the fintech ecosystem will foster start-up success and help shape the future of finance." Currently, there are six start-ups within the programme.
"Live More, Bank Less" – DBS's digital transformation strategy has woven banking into the lives of its customers,while creating easy-access to car, property, and electricity marketplaces in the last few months. The bank's customer-centric digital initiatives have manifested it as one of the best banks in the world, adapting to the rapid digitization across the retail banking industry.
This article is part of our ongoing "Digital Transformation Spotlight" series. Other spotlights have focused on Barclays UK and PNC. 
References:-
[ii]Digital Transformation Strategy
[iii]Execution of Digitisation
[iv]28% rise in net profits, SGD 5.63 billion.