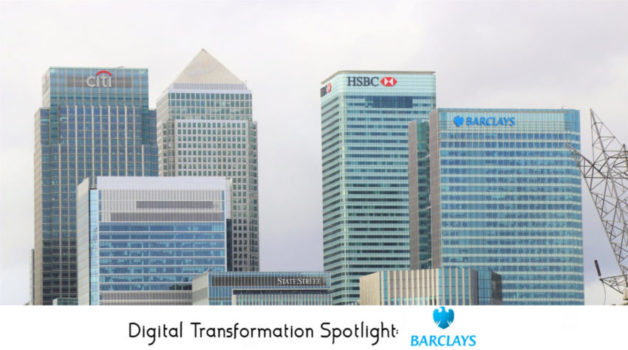 Set up over 328 years ago in 1690, Barclays is no stranger to adapting to changes in the way it functions. Globally, it has 24 million retail customers and one million business clients. In 2017, Barclays invested £4,148m into funding their digital transformation initiatives.
Barclays' strategy focuses on integrating their customers' demands with the growing digitalisation of the retail banking industry as expressed with some of their initiatives mentioned below:
"Smartphone penetration" is estimated to hit 95% in the UK by 2022. The Barclays' Mobile app boasts of the titles: "Most Used Banking App in the UK" and the "#1Banking App in the UK" with 1.7bn customer interactions from over 7.4m customers. Over 90% of Barclays' transactions take place over mobile devices; their interface is both easy-to-use and informative while integrating several new features on a regular basis. While the app provides standard features such as the ability to transact and transfer money in near-real time, they also provide innovative features like the ability to view the PIN and freeze the debit card in case of theft or loss. The app also allows users to earn cashback and rewards while also tracking recurring payments and bills.
In December 2018, Barclays became the first major bank to allow users to "turn off" payments towards certain types of retailers in an effort to give them more control over their spending. In a bid to help vulnerable customers, particularly those in severe debt or struggling with gambling addictions, the feature allows them to limit or stop spending across categories including gambling and premium rate websites and phone lines, among others.[i]
They are also the 'first' bank app to offer users the ability to view their accounts in 11 other banks, including Natwest, Halifax, HSBC etc., taking advantage of the UK's Open Banking environment.[ii]
In an effort to be inclusive and establish a stronger connection with their existing customer base, Barclays introduced The Digital Eagles Initiative in 2013. Since then, there have been over 12,000 Digital Eagles who have helped thousands of people across generations get online and access digital services.
One of their offerings is Code Playground, Barclays' beginner coding classes and online safety tips for kids, led by their DigiSafety Cadets, aiming for an immersive and educational approach to digitisation. With over 5,500 sessions held, well over the primary target of 500, Code Playground aims to support the need for coding skills in the current digital age. Meanwhile, their one-on-one in-branch 'DigiSafe in Cyber Space and Support Bar' sessions target their (mostly older) customer base that require help with computers and accessing Barclay's digital services. A dedicated YouTube channel with easy-to-understand videos brings home the learning without having to visit the bank.
A survey of over 6,000 adults in the UK found that over 25% have experienced some type of cyber fraud, and over 4.8m customers have taken steps to protect themselves digitally.[iii]Barclays has spent an estimated £10m on a nationwide digital safety drive to warn customers of cyber fraud risks; striving to create a bond that goes beyond gains for the bank.With the largest digital customer base in the UK, with over 10.5 million users, Barclays has embraced digitisation across various spheres including cyber security and personalised experiences.

Since the digital interactions among their customers is at an all-time high, and the number of customers visiting branches has fallen significantly, Barclays has turned some of its redundant branches into Eagle Labs.
"Technology for technology's sake isn't that exciting; technology that empowers people is a completely different thing" says Barclays UK CEO Ashok Vaswani; Barclays' initiatives focus on empowering small and medium enterprises (SMEs)in their Eagle Labs where they provide learning sessions on digital safety, coding and cyber fraud while providing opportunities for innovation with new technology.
The unused space in Barclays' branches and offices are being utilised to develop MakerSpaces and Incubators. MakerSpaces offers access to 3D printers and laser cutters, providing businesses with access to the tools they need to produce and test prototypes. The MakerSpaces will also be available for community events, corporate team days, training sessions around topics such as cyber fraud and coding as well as more basic digital skills training (Tea & Teach).
Barclays' Incubators will target firms and entrepreneurs who display high-growth, 20% or more, in their working and will provide them with opportunities to collaborate with like-minded businesses and mentoring from Barclays' industry experts.
Spread across 20 locations in the UK, this endeavour has raised £236m[iv] in funding by Eagle Lab Residents, Members, alumni and connected businesses. Collaborations with fintech have allowed the banking giant to explore innovative and creative solutions for the digital disruption in the banking sector, allowing them to create exciting opportunities within the digital revolution.
While these three initiatives are at the forefront of Barclays' digital transformation, they are by no means the only ones. A constant focus on their customers' needs allows the bank to adapt and configure their way of working to gain a loyal customer base and attract those from rival high street banks.
Allowing their customers to use virtual cards via their app, Barclays was one of the first banks to provide contactless payments and cash withdrawals. Instant cheque imaging[v], allowing customers to pay cheques without having to visit the branch,is another milestone in the bank's digital transformation. Customers can digitally pay in four cheques up to £500 in a seven-day period.
Barclays' Beacon Technology aims to personalise branch visits for their disabled customers, creating an inclusive approach in the banking sector. One of the first banks to leverage Audio Cash Machines for their visually challenged customers, the customer can be guided about the services via headphones. Barclays was the first major high street bank to deliver audio functionality to over 80% of their ATMs.
For their deaf and speech-impaired customers, Barclays has introduced the SignVideo[vi] service where customers can video-call the bank and connect to an interpreter. They are then able to formulate their queries using British Sign Language (BSL) and have the same forwarded to an adviser with the interpreter's help.
Acknowledging the growing demands of the customers to be able to bank via their phones and laptops, using digital technology to personalise banking for their disable customers and creating digital initiatives designed to empower their customers across ages, Barclays has created an inclusive and holistic strategy for their digital transformation.
This article is part of our ongoing "Digital Transformation Spotlight" series. Other spotlights have focused on DBS and PNC. 
References:-
[ii]Barclays Digital Initiatives