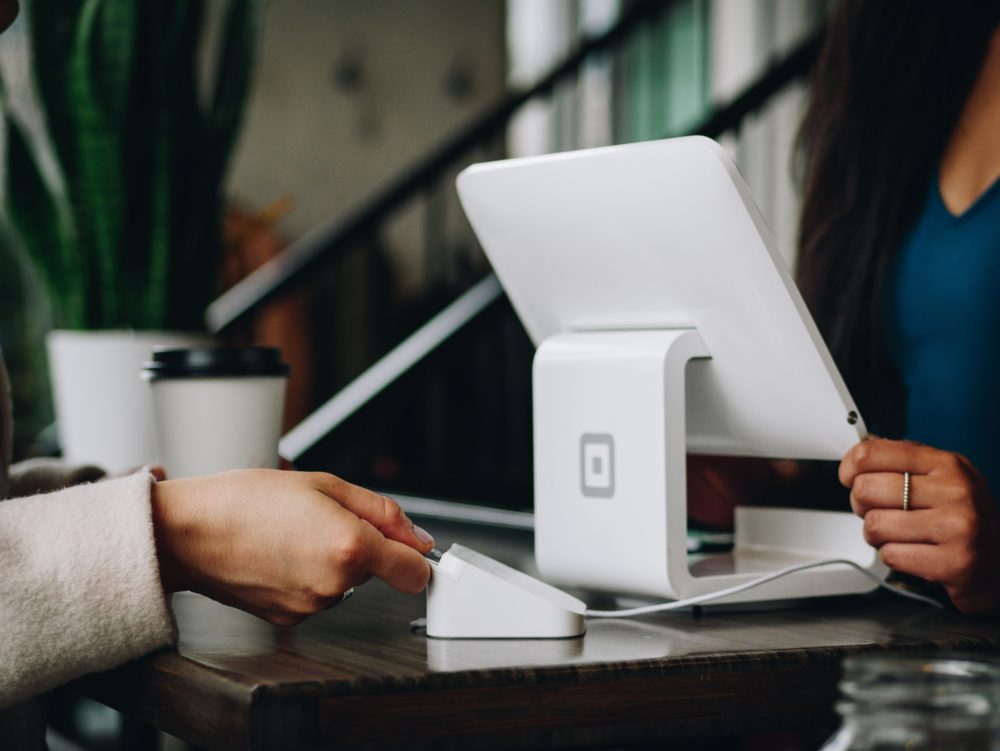 Square, a fintech startup founded in 2009, is currently the market leader in POS devices. Since its inception, it has expanded to online and mobile payments as well as a digital wallet, CashApp. On January 22nd, 2020, Square won the patent to debut a new crypto-t0-fiat payments network that will allow customers to pay with their chosen assets, including cryptocurrency. Merchants will also be able to accept payments in any currency they choose. The patent application states that the network itself will convert the payment into the chosen currency before it reaches the merchant.
Square's Crypto Payments Network (2018)
While the crypto-to-fiat currency patent has been in the works since 2018, this is not Square's first foray into developing a network for crypto payments. Square has been exploring the crypto space for at least three years now; they were awarded a patent that allowed merchants to accept payments in any cryptocurrency in 2018. While several other payment processors such as Bitpay, Coinbase, Shopify Gateway, etc. also offer cryptocurrency payment acceptance, Square boasts higher market penetration, allowing several thousand merchants around the globe to accept payments in multiple currencies and assets.
Square's 2018 patent also included a process where the POS system eliminates latency in crypto transactions. This ensured that even bitcoin transactions, which are often criticised for their slower confirmation times, can be approved at roughly the same speed as a credit card transaction. The patent confirmed that Square's crypto payments network is built on a private blockchain network that will record transactions in real-time, allowing Square to view balances before the changes are broadcasted/wired to the public blockchain. The patent also noted that transaction latency could be eliminated by having user funds custodied by the payment network itself, allowing Square to simply update its internal ledger rather than writing any transactions to the blockchain.
Square's Crypto-to-Fiat Payments Network (2020)
Square's 2020 patent takes their entry in the crypto payments space to the next level by allowing customers to pay with cryptocurrency (or any other potential asset) with their crypto-to-fiat payments network. According to CEO Jack Dorsey, who has been very vocal about his interest in cryptocurrency, Square sees cryptocurrency as a "transformational currency"; He has gone on record to predict that bitcoin (BTC) will be the internet's native currency within a decade. Given Square's recent developments, it is likely that Square will soon implement these crypto payments networks into their POS systems.
Currently, CashApp, Square's digital wallet, allows users to make bitcoin deposits into their accounts. CashApp users can also buy and sell bitcoin, deposit their crypto assets into a third-party wallet or deposit any profits or withdrawals into their bank accounts. In the first half of 2019, CashApp's bitcoin service generated over $190 million in revenue and amounted to almost USD $3 million in gross profits. The wallet processed USD $125 million in bitcoin sales in the second quarter alone.
Square's success comes from a strategic expansion of its product suite. From a single card reader in 2009, it has now branched out to offering digital and mobile payment services along with POS devices. Dorsey noted in 2019 that as cryptocurrency becomes widely used, Square will transition to provide a wider range of "internet services" which include "hardware, analytics, payroll and lending."
Fintechs & Cryptocurrency
Square is by no means the only fintech that has branched out into cryptocurrency. UK's digital challenger bank Revolut allows customers to buy, sell, and transact with five cryptocurrencies — Bitcoin (BTC), Ethereum (ETH), Litecoin (LTC), Bitcoin Cash (BCH) and (XRP) for one of the twenty-nine fiat currencies supported by the app. It recently announced that it is looking to expand its crypto services to all 50 states in the US and mentioned Square as its biggest competitor.
When it comes to exploring crypto payments, financial institutions and established market leaders are also stepping up their game. Payments giant Visa recently acquired crypto-serving fintech Plaid for USD $5.3 billion. Essentially "fintech plumbing", Plaid allows users to share their financial data with third-party apps such as Venmo. Its clients include crypto firms such as Coinbase and Abra Wallet.
Tech giant Facebook's ambitious Libra project also aims to fuse fiat and crypto currency. Libra is being developed to be a widely used cryptocurrency with its value tied to stablecoins as well as fiat currencies like the dollar or the yen, allowing for minimal fluctuations compared to other coins such as Bitcoin, Ethereum, etc.
With the demand and interest in crypto-to-fiat payments and transactions steadily increasing, several players have entered the space hoping to carve out a niche for themselves. As payments consultants, we have the expertise to guide your foray into new and emerging methods of payments across the globe. We have worked with both fintechs and financial institutions exploring changes in their payments ecosystem.
Penser are experts in payments consulting and offer digital transformation, due diligence, and strategic planning services for fintechs and financial institutions in the payments and fintech sectors. Contact us to know more about how we can help you.